Roger Creager's Coastal Bender in Corpus Christi, Texas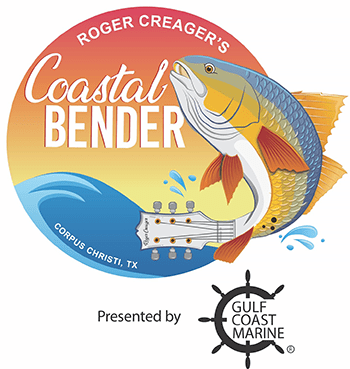 Hi, Friends!
The Coastal Bender Fishing Tournament is a homegrown event courtesy of Roger Creager and the Gulf Coast Tournament Association. Their goal is to bring an event to OUR HOME city of Corpus Christi, that has something for everyone to enjoy! Whether you want to fish from the beach, boat, or a kayak, they have you covered. Registered anglers will have full access to the outdoor expo, concert, and festival.
CONCERT SERIES

When?:
Saturday, August 3, 2019
Where?:
American Bank Center, Corpus Christi, Texas
Who?:
CHRIS COLSTON – 6:30pm to 7:00pm
JACK INGRAM – 7:05pm to 7:50pm
DAVID LEE MURPHY – 8:00pm to 9:15pm
ROGER CREAGER – 9:30pm to 11pm
To buy tickets for Roger Creager's Coastal Bender, please visit, https://www1.ticketmaster.com/event/3A005684D4F16BA1?dma_id=260
To register for the fishing tournament, please visit https://www.gctatx.com/2019-roger-creager-coastal-bender-fishing-tournament-registration?view=register
COASTAL BENDER BOAT SHOW
Manufacturers and Boat Dealers, Tackle Manufacturers and Distributors from all over the United States will be featured at this exhibit. You will be able to walk out of this event fully loaded and ready for a day on the water, with the vendors in the show outfitting you with everything from Rods Reels, Tackles, Apparel from the best in the fishing and outdoor industries. Plus, if you are looking for that new Boat or Kayak the dealers will be there to answer all your questions about the newest models on the water.
SHOW HOURS
Friday, August 2nd | 10am – 9pm
Saturday, August 3rd | 10am – 9pm
Sunday, August 4th | 10am – 5pm
For more information regarding the Outdoor Expo, please visit,  https://www.coastalbender.com/outdoor-expo/
I know I will not be missing this wonderful local event is year. Get your tickets early for the concert series as limited tickets are available. I hope to see you all there!
See you soon, Friends!
-Brandon C.