City of Corpus Christi Tours
Hi, Friends!
This past week our team was invited to join Enjoy Corpus Christi Tours, a local tour guide offering sightseeing, historical, ghost, and cultural excursions around the city of Corpus Christi and surrounding areas.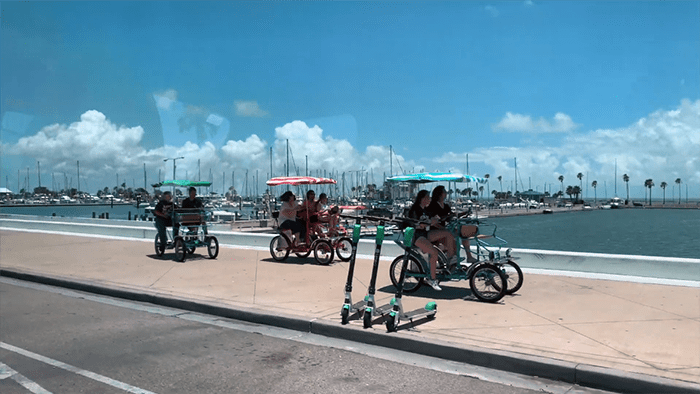 Susan and Rene Trevino, owners of Enjoy Corpus Christi Tours, helped our team explore the fun and artistic side of our society. With their guidance, we were able to see and experience all the splendid things our beautiful city has to offer for locals and visitors alike.  I must say, as a Corpus Christi native myself, I learned so much about my own city that I had no idea existed. We had such an amazing experience with Enjoy Corpus Christi Tours and, I know you will too.
A word from Susan Trevino, Owner:
"Hello! For many years, my husband Rene and I have enjoyed traveling to near and far destinations. However, nothing compares to home—Corpus Christi. We want to share its distinct and colorful culture as well as the history, art, and other unique aspects of South Texas with you.
Rene was born and raised in Corpus Christi. On the other hand, I arrived in Corpus Christi a bit later on in life and graduated from Corpus Christi State University (now Texas A&M University—Corpus Christi). Both he and I have lived here ever since. We have had the pleasure of raising our children here and seeing our city grow.
Together we have worked in the management and marketing industry for several years. Driven by our passion for travelling and our love for Corpus Christi, we immediately jumped into action as soon as we had the opportunity to work on this new venture of travel and tours."
Sincerely,
Susan and Rene Trevino
Enjoy Corpus Christi Tours offers a wide variety of tours to those interested. Sightseeing Historical Tours, Family Fun Trek, Art Tours, and Ghost Tours are a few they have to offer.
Art Tours
Experience the diversity of the Corpus Christi art scene by viewing public art along the tour route and visiting unique galleries and studios with us. Our art tours will include stops at a minimum of four art galleries or studios. Art pieces will also be available for purchase.
This tour lasts for approximately two hours at a cost of $28 per person.
We offer upgrade options that may include lunch or appetizers and a cocktail or sipping champagne during the tour. Please give us a call for more details.
Departure time: 9:30 AM and 2:00 PM (Tuesday – Saturday)
Ghost Tours
Visit 13 reported haunted sites that will give you chills and thrills. Hear the stories and the history behind these haunted locations and what other guests have encountered.  Take lots of photos and try to capture orbs, apparitions, or ectoplasm.  This tour is a two-hour night adventure that will have you taking a second look at every unexpected shadow!  Come prepared to do some exploring.
This tour costs $21 per person.
Departure time:  7:30 PM to 8:30 PM (depends on sunset) every Friday*
*Other days available for group reservations.
Cultural and Seasonal Tours
Celebrate the uniqueness of South Texas culture such as the Migration of Hummingbirds, Corpus Christi Celebrities, and Dia de Los Muertos. Make sure to keep visiting our website as more information will be posted once these tours become available.
To see our teams adventures, please visit https://youtu.be/WdGcXlG__m8
I hope everyone will book a trip with  Enjoy Corpus Christi Tours!