Girls Weekend in Corpus Christi
Has work been stressful? Do you miss your girlfriends? Have you been talking about planning a weekend get-a-way with the girls but haven't? Now is your chance! You have waited too long! Planning your girl's weekend does not have to be burden. I have put together a list of activities/attractions you may like.
Dining
Hester's Café – Downtown

If you are visiting the area, Hester's is a must visit location! Imagine waking up one morning, driving down beautiful Ocean Drive, ordering brunch and sipping on an ice-cold mimosa, all while taking in breathtaking views of the bay. This lunch and brunch spot has EVERYTHING from melt-in-your-mouth baked treats, hearty breakfast plates, lattes and mimosas to filling salads and sandwiches.
Executive Surf Club

Since 1990, the Executive Surf Club has been Corpus Christi's most reliable post-work happy hour, as well as the perfect casual family dining spot. All while supplying the most beer on tap in the city, alongside the best in local music. So, grab the girls and head downtown to the Executive Surf Club. Don't forget the pup & enjoy our dog friendly patio!
The Post at Lamar Park

Named for the U.S. Post Office that formerly resided there, The Post kicks the gastro-pub concept up a few rungs with pre-Prohibition style cocktails and menu items like lobster truffle mac & cheese, the hipster of jalapeño poppers: Brussel Sprouts drizzled in honey Sriracha and the Heisenburger and Hot Mess sandwiches. No wonder The Post's creative cuisine grabbed the attention of Texas Monthlyin the "50 Greatest Burgers in Texas" round-up.
Attractions
Spa Day 

What's a girl's weekend getaway without a spa day? Treat yourselves to relaxing and rejuvenating massages at Anthony's Aveda Salon and take in the beautiful and calming environment with your besties. After all, spa days are like a reset button on your life, right?

Yoga


Ever tried going into downward dog on a paddleboard? In the middle of a bay? Here's your chance! Situated on a houseboat, Water Dog is the world's first floating yoga and fitness studio. And yes, it's right here in Corpus Christi. Water Dog Floating Yoga offers yoga and fitness classes on the upper deck, as well as Stand Up Paddleboard (SUP) yoga, SUP Pilates and SUP Fit classes right on the water. Grab your girls and unwind with a calming sunset yoga session or start your day with an energizing sunrise class. Not to mention, you will fall in LOVE with the view.

Shop 

Ready to do some serious shopping? A girl's weekend in Corpus Christi wouldn't be complete without a trip to local shops and big-time spots! Start your shopping spree with an adventure to La Palmera with over 100 shops and eateries, La Palmera is a premiere shopping and dining destination in the Coastal Bend.
Draped in mature, sprawling oak trees and Texas mesquite, at the corner of Alameda and Doddridge. Lamar Park displays the low-slung mid-century modern vibe of the year it was built, 1955, and shakes it up with a contemporary twist. Generations of locals and Coastal Bend visitors consider Lamar Park their go-to fashion destination. Just a whisper of the names of the shopping center's popular anchors, Ann Taylor, Chico's,Talbots or Texas style-powerhouse Julian Gold sends some into a fashion frenzy. While the big names lure shoppers in, the unique local retail shops keep them coming back.
Lodging
Port Royal Ocean Resort

Wondering where to take your next girls weekend? Look no further. Port Royal Ocean Resort, the premier Port Aransas Beach Resort, features 210 beachfront condos set on a 25 acre enclave wrapping around four lagoon pools, accented by palm trees, with stepped waterfalls – complete with two water-slides and an Olympic size heated lap pool. If you're looking for a relaxing weekend, you don't even need to set foot outside of the Port Royal property. We have a variety of on-site activities for everyone, most are even FREE!
Our activities include:

Dive-In Movies during the week on each Tuesday & Thursday.
Once a week we have on-site yoga free for our guests.
Once a week you can get a great workout in our on-site free Aqua Zumba Class.
Every Saturday morning at the beach in front of Port Royal, you can learn to build one of the best sand castles on the island with Mark Landrum, the Port Aransas Sand Castle Guy!
Massages in your condo at an incredible hourly rate.
We even have a restaurant and bar!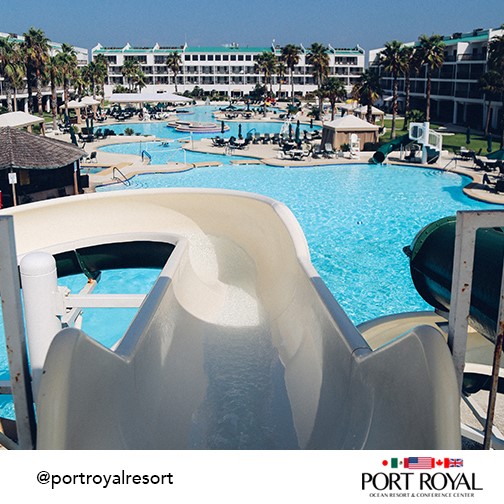 Worry no more and book your room today. It's a decision you will not regret!
Talk to you soon, Friends!
-Brandon C.