Port Aransas Transportation
Hi, Friends!
When traveling, one of the first questions you may have is, "How am I going to get around town?" In the Coastal Bend, travelers rely on ride-share programs such as Uber and Lyft, and the city's public transportation system. I'm happy to tell you that traveling in Port Aransas is one of the easiest things to do!
If you find yourself looking for places to vacation this summer or Fall, consider Port Aransas as your travel destination. We not only have one of the most breathtaking coastlines and mouthwatering cuisine, the access to everything in town is at your fingertips!
Here are three options to help you travel around and make your stay in Port A more convenient and enjoyable.
Public Transportation System – CCRTA
The Corpus Christi Regional Transportation Authority (CCRTA) is the public transit system of the Coast Bend area. The CCRTA not only provides their services throughout the City of Port Aransas, but you can also commute to and from Corpus Christi to Port A or over the Ferry from Aransas Pass. The RTA also provides shuttles that travel to and from local attractions like the Schlitterbahn Waterpark and some of our beaches like Bob Hall Pier. Traveling on the CCRTA bus is also extremely inexpensive at just $.25. To look up specific routes and schedules visit http://www.ccrta.org/
Golf Cart 
Here in Port Aransas, there is no need for large vehicles on the streets. We're a beach town… just rent a golf cart! There are tons of places where you can rent your golf cart or beach cruiser such as JackFish Cart Rentals, they "rent fun." Whether you are on a custom golf cart rented from Jackfish Cart Rentals or parasailing around Port Aransas from above, there is much to do and see. I bet you will enjoy cruising around in one of them; I know I have!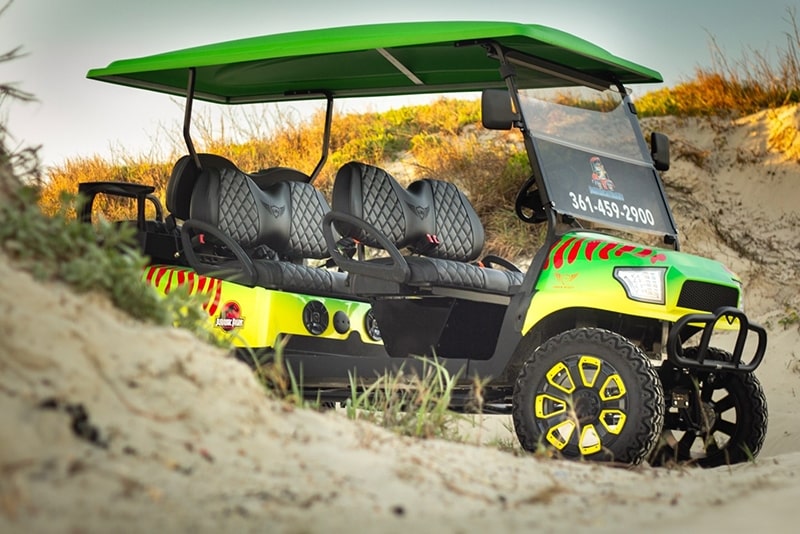 Walk/ Bike 
Although renting a golf cart would be fun and, taking the bus would be very inexpensive, our beach town is small and charming that most of our condos and hotels are within walking or biking distance from our beautiful beaches and great restaurants.  No need to get in and out of your vehicles, simply enjoy the scenery on foot or bike.
Regardless of how you choose to get around Port Aransas whether it is on foot, by bus or in your own vehicle, you will without a doubt enjoy your stay here in Port A!
It's not too late to book your Labor Day vacation with us! Contact our reservations team for more information.
Talk to you soon, Friends!
-Brandon C.