4th of July – Big Bang Celebration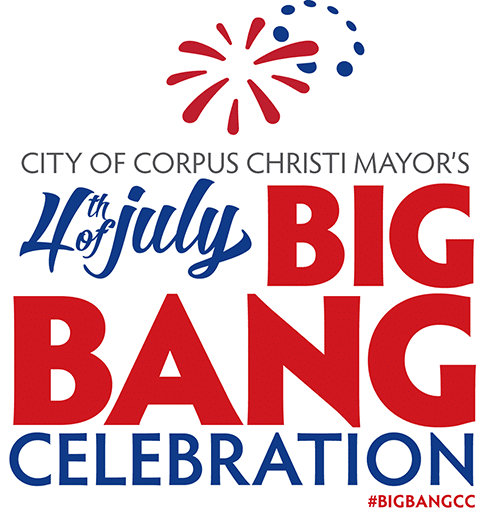 When? Thursday, Jul 04 2019 at 09:30 pm   Where? Water's Edge Park, 602 South Shoreline, Corpus Christi, Texas 78401, Corpus Christi, United States
Bands, Floats, Parade Participants, please submit a Parade Entry Form!
If you have a 5th – 7th grade child, maybe they'd like to enter the Mayor's 4th of July Essay Contest?
If you or your organization would like to be recognized for your involvement in the celebration, please consider Sponsorship Benefits!
Vendor applications will be accepted on a first-come, first-served basis.
Schedule of Events
Wednesday July 3rd
9:30am – "10 Birds You Can Know by Ear" – Free Porch Talk at Oso Bay Wetlands Preserve and Nature Center
5:00pm – 8:00pm – Downtown Farmer's Market at Art Center of Corpus Christi
8:00pm – Midnight – Robert Earl Keen and Tyler Childers at American Bank Center
8:00pm – Cody Canada & the Departed / Steven James & the Jaded at Brewster Street Ice House
Thursday July 4th
7:00am – Four for the Fourth 4 Mile Road Run, Solomon Oritz Center with Special Award for most patriotic runner
9:00am – Inaugural Fajitaville Patriot Paddle Out on North Beach honoring our Military Service Members and their Families
10:00am – Independence Day Patriotic Ceremony at Sherrill Park, hosted by the Corpus Christi Mayor's Committee on Veteran's Affairs
3:00pm – 6:00pm – Mayor's Big Bang Celebration Family Fun & Music Zones at Water's Edge Park (Pony Rides, games, face-painting, entertainment)
Noon – 3:00pm – DJ Choppie Chops
3:00pm – 3:05pm – Welcome – Mayor Joe McComb
3:00pm – 3:05pm – National Anthem – Stephanie Lewis
3:05pm – 3:20pm – Botanical Gardens, Reptile and Bird Show
3:25pm – 3:35pm – Lanky the Clown
4:00pm – 5:00pm – Chicas Rock
5:05pm – 5:10pm – Lanky the Clown
5:10pm – 5:15pm – Ridge Hammonds
5:15pm – 6:00pm – The Dream
3:00pm – 10:00 pm – Texas Mud Fest at South Texas Speedway
6:00pm – Mayor's Big Bang Celebration Parade presented by Flint Hills Resources
6:00pm – 9:15pm – Two Tons of Steel featuring Ty Dietz at Waves Resort featuring Schlitterbahn
6:15pm – Corpus Christi Hooks vs. Midland RockHounds at Whataburger Field
7:00pm – 9:30pm – Music at Cole Park will be provided by DJ Abel Bocanegra – Skip Entertainment
7:00pm – Red, White & Boom Fireworks Viewing Party from the Flight Deck of the USS Lexington Museum
7:00pm – 21+ VIP Viewing Party at Holiday Inn Downtown, $20 per person
7:00pm – 10:00pm – Fireworks viewing – Celebrate the red, white, and blue with a fin-tastic view at the Texas State Aquarium
7:00pm – 10:00pm – Open Mic Night at Mesquite Street Comedy Club
8:00pm – 10:00pm – Corpus Christi Camerafest – Fireworks on the Bay – bring a camera and tripod to Oleander Beach for tips on capturing fireworks
8:00pm – Jazz Night at The Gold Fish
8:00pm – The OddFellas at Executive Surf Club
8:00pm – RetroVibe at Pier 99 Fourth of July
8:00pm – Diamond's Edge at Brewster Street Ice House
9:00pm – Harbor Bridge Light Show sponsored by Stellar Energy (choreographed to music 92.7FM, 95.5FM, and 1440AM)
9:30pm – 10:00pm – Mayor's Big Bang Celebration Fireworks presented by H-E-B
Friday July 5th
10:00am – 5:00pm – Frost First Dollar Day at Art Museum of South Texas
10:00am – Midnight – Texas Mud Fest at South Texas Speedway
5:00pm – 10:00pm – Corpus Christi Food Truck Summerfest 2019 at Water's Edge Park
5:30pm – 9:00pm – First Friday ARTWALK – Artesian Park
5:30am – 9:00pm – ARTWALK Dollar After Dark at Art Museum of South Texas
6:15pm – Corpus Christi Hooks vs. Midland RockHounds at Whataburger Field
7:00pm – 9:00pm – Saxy Friday's at Bella Luna Downtown
8:00pm – The Spazmatics at Brewster Street Ice House
9:00pm – Vitamin R – a Tribute to Chevelle at House of Rock
Saturday July 6th
9:00am – 10:00am – "Wacky Wetland Adaptations" – Free Guided Nature walk at Oso Bay Wetlands Preserve and Nature Center
9:00am – 10:15am – SUP Yoga & Fitness with Water Dog Floating Yoga at Cooper's Alley L-Head
9:00am – Noon – Southside Farmers' Market
10:00am – Midnight – Texas Mud Fest at South Texas Speedway
Noon – 6:00pm – Corpus Christi Mystic Market Holistic Fair at Emerald Beach Hotel
Noon – Midnight – Corpus Christi Food Truck Summerfest 2019 at Water's Edge Park
6:15pm – Corpus Christi Hooks vs. Midland RockHounds at Whataburger Field
7:00pm – 9:00pm – Piano Jazz Saturday's at Bella Luna Downtown
8:00pm – Kyle Park w/ Robert Ray at Brewster Street Ice House
9:00pm – Summer Splash Bash ft. Peso Peso and Friends at House of Rock
9:30pm – 1:30am – Another Level at Rockit's Whiskey Bar & Saloon
Sunday July 7th
10:00am – 2:00pm – Jazz Brunch at Restaurant 361 at Port Royal Ocean Resort
Noon – 10:00pm – Corpus Christi Food Truck Summerfest 2019 at Water's Edge Park
4:00pm – 7:00pm – Frida Fanatics Festival at Communitea
6:15pm – Corpus Christi Hooks vs. Midland RockHounds at Whataburger Field
7:00pm – 8:45pm – Corpus Christi FC Soccer Game at Jack Dugan Soccer Stadium