2019 Easter Brunch
Hi, Friends!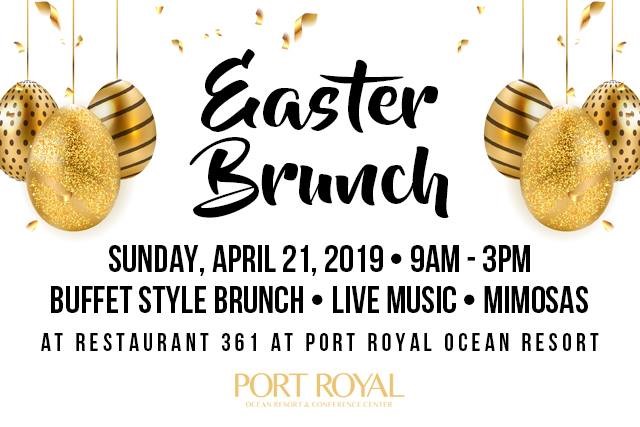 Join us for a savory Easter Sunday Brunch at Port Royal Resort's Restaurant 361 filled with Live Music, a buffet style brunch, and delicious mimosas! Since Hurricane Harvey, our teams have worked long hours diligently perfecting our famous Sunday Brunch. Our holiday brunches are popular amongst families and couples around the area. Keep an eye out for a special appearance by The Easter Bunny himself!
Easter Brunch Menu:
Traditional breakfast items:
Eggs, potatoes, bacon, sausage, biscuits and gravy, pancakes and syrup
Entree:
– Lamb chops with rosemary mint garlic sauce
– Ham with mint julep sauce
– Stuffed chicken with mozzarella and mushrooms, topped with a red pepper cream sauce
– Salmon patties with green chili remoulade
Sides:
– Mix vegetables
– Dijon mustard glazed carrots
– Lemon grass rice pilaf
– Roasted herb red potatoes
Carving:
– Prime rib with peach au jus
– Whole baked salmon
– Peel n eat shrimp
– Crostini with green onion & garlic dip
Salad:
– House salad "Cob style"
– Caesar salad
Dressings: Ranch & Caesar
– Fruit Tray
– Cinnamon rolls
– Assorted mini muffins
– Deviled eggs
Dessert:
– Pink mousse martini
– Carrot cake
– Assorted cake "eggs"
– Peep pops
To reserve your spot for Sunday's Easter Brunch, please click here or call our Food and Beverage department at 361-749-3720. I hope to see you there!
Talk to you soon, Friends!
-Brandon C.